Private sessions 1 to 1
Working one on one is a great way to really tune in. There is room to tell your story, to ask questions, to learn more techniques and have a better understanding of your personal yoga practice. We could even build you a home practice. Private sessions are a beautiful way to make big steps in a short amount of time.
60 minutes EUR 65,-  / 75 minutes EUR 80,-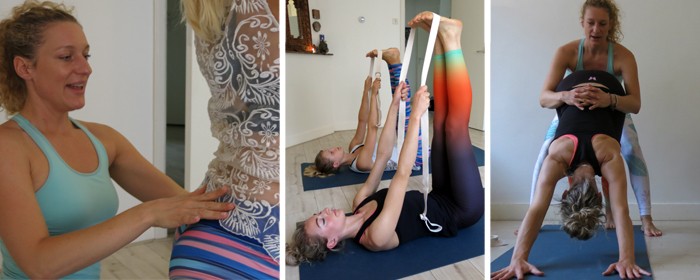 Private group sessions: Yoga @ home
"Practice yoga in your own living room with friends and enjoy the uplifting energy of a group and maximum personal attention."
How it all began?
What was meant to be a study-group yoga class taught to friends during my first teacher training developed into a weekly evening class in my living room and hence called "Huiskamer Yoga". A group of friends enjoyed a weekly class during which I guided them through postures (asana), breathwork (pranayama) and meditation. After class tea was ready with some scumptious bites and we had time to catch up with each other.
Also at your place!
Do you have friends with whom you would like to meet on a (more) regular base but somehow life is so busy that it rarely happens? Do you share yoga as a common activity or are interested in starting a yoga practice? Then invite your friends over and enjoy a private yoga session at your own place!
Send me an e-mail if you have any questions.
Facts
Class is taught in fluent English or Dutch
Duration of 75 minutes
Number of people is 2 to a maximum of 6 persons depending on the size of the living room
Costs are EUR 110,- per session
Mats are not included and can be rented for EUR 3,- per mat per session. You could also buy your personal mat of course.
Props like blocks and belts are included.
"Enjoy the energy of practicing in a group. Get maximum personal attention. Stay at home and invite your friends."