Turkey Yoga Retreat – summer/fall  2018
DATES TO BE CONFIRMED
A retreat. Or more precicely a re-TREAT. A veritable treat to yourself: sun, see, delicious and healthy homemade food and yoga, what else do you need to unplug, recharge and feel happy?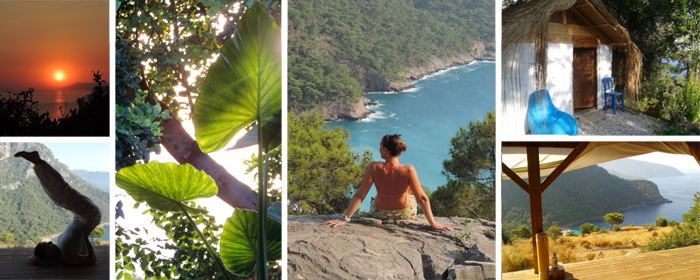 For this yoga holiday I have selected a truly idyllic place: Suleyman's Garden at an off the beaten track location in Turkey.
Suleyman's Garden is a charming, small, traditional farm set on the Mediterranean 'Turquoise' coast, with terraced vegetable fields, orchards and stunning sea views from its dining terrace and yoga shala. It is just a five-minute walk through the forest to reach a beautiful, rocky swimming cove and only fifteen minutes by local bus to sandy beaches, or twenty minutes to the small resort of Olu Deniz, with arguably Turkey's most famous beach.
Day schedule (subject to change)
8:00 pranayama and active vinyasa yoga
11:00 breakfast
14:00 lunch
17:00 soothing and relaxing yin yoga and meditation
20:00 dinner
Accommodation
Suleyman's Garden offers accommodation for up to twenty-four in simple cabins with shared bathroom facilities, and in five twin en-suite rooms, set amidst verdant vegetable and flower gardens.
For more information on the venue click here.
For signing up and questions regarding dates and prices send me an e-mail at karolien@mtyc.nl.